Doesn't that sound like something quaint to say when you've knocked over a bag of flour or grazed your knuckle because you were daydreaming about pie instead of paying attention to the cheese grater?
But for real: this is just some easy delicious food, and you should make some.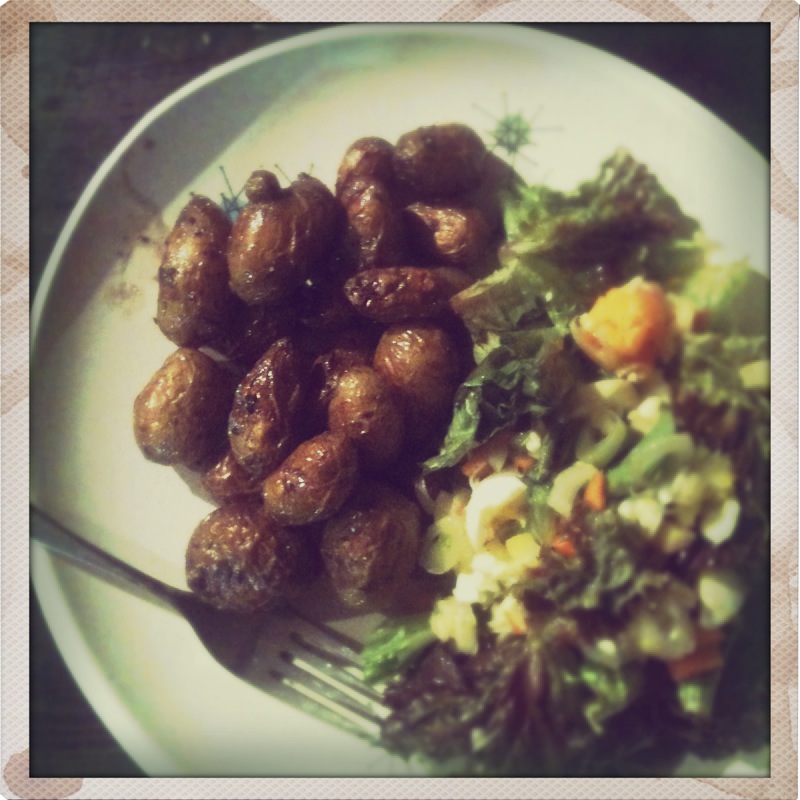 I suppose they look rather unassuming up there, piled on the plate next to a green salad. The list of ingredients is equally humble: potatoes, butter, salt, pepper, herbs-if-you-have-them-but-don't-let-not-having-them-stop-you-from-making-these-for-dinner-tonight.
Don't be fooled: underneath their plain Jane exterior, these potatoes are very exciting indeed. We've been making them for years, and we think the trick is in the dual cooking method: you start them in some sizzling butter on the stovetop and then slide them into the oven for a spell, where the skins get gorgeously browned and the insides go all light and fluffy and perfect. It's really something.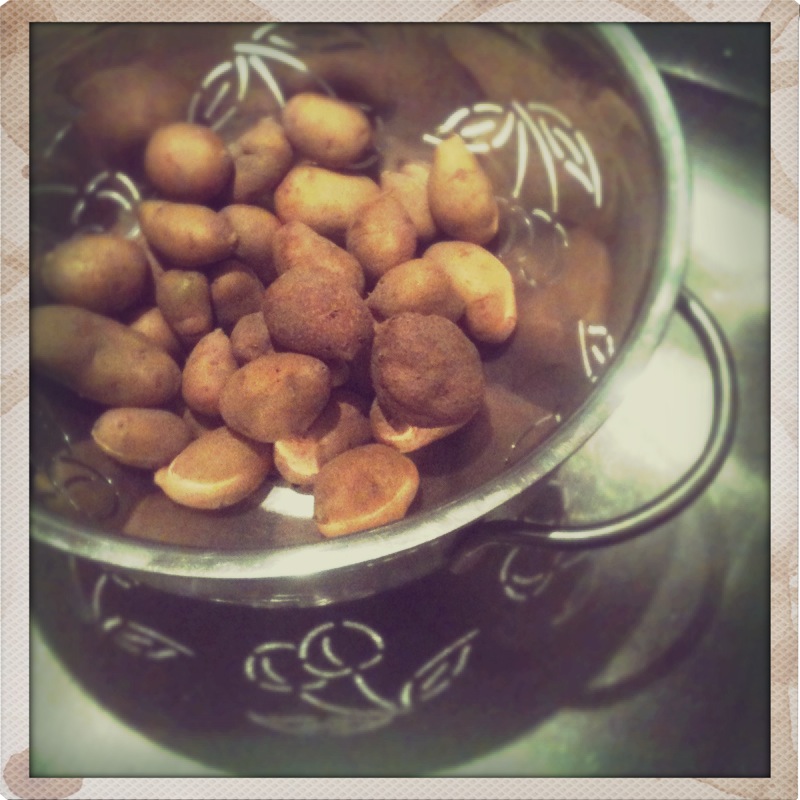 Buttery Spudlets
adapted only slightly from The Passionate Vegetarian by Crescent Dragonwagon
A few quick notes … the original recipe calls for tiny new potatoes, and while the pictures in this post might look like new potatoes, in truth they are it's-the-very-end-of-the-farm-season-and-this-is-what-we-could-scrape-up-from-the-bottom-of-the-potato-bin potatoes. But you can use plain old baking potatoes as well; just cut them into rough 1-inch chunks. This is what we usually do and I think we even prefer them that way! You can also substitute sweet potatoes for some of the regular potatoes – delicious. These potatoes seem to be the perfect side dish to just about everything. But they are also divine on their own with a fried egg on top and that is a perfectly respectable supper. We're just sayin'.
2 tablespoons butter
1 1/2 lbs or so potatoes cut into 1-inch chunks (or small new potatoes)
1 teaspoon fresh herbs, chopped fine, if you have them (rosemary is really really good, and thyme is nice too)
salt and black pepper to taste
Preheat the oven to 400°F.
Melt the butter in an oven-safe skillet (you'll need a lid too in a sec) over medium heat. Add the potatoes and cook for about 5 minutes, shaking the skillet once or twice.
Cover the skillet and slide it into the oven. Bake for 20 minutes.
Carefully remove the lid. Add the salt and pepper and herbs if you're using them. Shake the skillet to mix everything up. Cook uncovered for 15 more minutes, giving the skillet a good shake every 5 minutes.
Eat up!